Sierra Title donates to the victims of hurricane Harvey View Pictures
Aug. 31, 2017
On August 31, 2017, Sierra Title of Hidalgo County, Inc. partnered with Habitat for Humanity of the Rio Grande Valley http://www.habititrgv.org/ and Golden Crescent Habitat for Humanity http://www.goldencrescenthabiti.org/ to take two truckloads and a 20' trailer loaded with supplies for the victims of Hurricane Harvey to Victoria, Texas. The pallet included donations from employees as well as donations from the company. Matt Wilson, Vice President of Escrow for Sierra Title of Hidalgo County, Inc. and Jordan King, Attorney at the King Law Firm, drove the donated items to Victoria Texas. Once they got to their destination, everything from water, diapers, baby food, bug spray, blankets and pillows, along with other items were distributed.


Additionally, Matt and Jordan joined five additional volunteers from the Rio Grande Valley to give supplementary help to the victims of the hurricane. They coordinated their efforts to assist hurricane victims with Samaritan's Purse https://www.samaritanspurse.org/. All of the volunteers helped the victims for two days cut down trees, ripping wet sheetrock, and moldy insulation from the interior of the damaged homes plus provided general aid to the city of Victoria, Texas.


Sierra Title Company, Inc., located in El Paso, Texas, and their employees, donated much needed goods to the victims as well. Even though some of the employees had family members that were directly affected by this vicious storm, they donated to items to the companies' efforts to help out as well. On September 3rd, friends of employees going to take items to various small towns surrounding the Houston area took the items from the company and from the company's employees in order to distribute them to the churches along the way. The items were distributed through a 7 day period.




Sierra Title of Cameron and Willacy Counties correspondingly helped the victims of Hurricane Harvey by giving a $1,500.00 donation to Habitat for Humanity. On Casual Dress Fridays, if an employee wears jeans with their Blue Sierra Title polo shirts to work, the employee will give $2.00 as a donation. The funds that are collected on Casual Dress Fridays are then used as donations to causes that are selected by the company.


Everyone's effort to aid those people in need was set as a priority for the following companies: Sierra Title of Hidalgo County, Inc., Sierra Title of Cameron & Willacy Counties and Sierra Title Company Inc. (located in El Paso, Texas).




All of the Sierra Title Companies were there to meet the need by giving monetary donations as well as donations of items to lending a helpful hand those victims in need.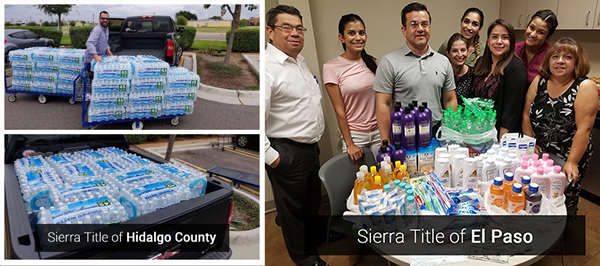 More News