Sierra Title Trowbridge Fee Attorney office featured in historical article View Pictures
Nov. 20, 2016
The Sierra Title Fee Attorney office of David Ellis (with escrow officers Debbie Sebastian and Paula Orrill ) located at 4115 Trowbridge, El Paso, has been featured by the Texas Trost Society.

The architecture firm of Trost and Trost is legendary in El Paso and the desert southwest. They designed some of the most iconic buildings of the area in the early 1900's (such as the Gage Hotel of "Giant" fame in Marathon Texas, Carnegie Library, Tucson, Goodrich house in Tucson, University of New Mexico State, Anson Mills Building, El Paso Railroad Depot, Hotel Paso Del Norte, El Paso High School, Loretto Academy, Plaza Hotel and Theater, El Paso, Driskill Hotel in Austin and over 100 more. Most famously, he designed the University of Texas El Paso. For images and a complete list please visit www.facebook.com/TexasTrostSociety , or Wikipedia, "Trost & Trost".

Henry Trost was born in Ohio in 1860. After attending the Chicago School of Architecture, he moved to El Paso in 1903. He, and his brother Gustavus, formed Trost and Trost in 1908. He specialized in the Art Deco, Mission Revival (the style of our office), and Prairie styles. He is most famous for his Bhutanese Dzong style in which he designed the University of Texas El Paso campus. This design was based on the desire of the university president who had visited Bhutan in 1900.

An El Paso businessman named Tullius Wingo came to El Paso from Georgia in 1900. He started as a cashier at a local bank. By 1910, Mr. Wingo had advanced to become the vice president of the City National Bank. He was on the committee in 1916 to sell Liberty Bonds in El Paso. He worked in the banking business through the 1930s. In the 1940s, he opened the Wingo Insurance Company with partners W. Cooley and R.B. Kimbrough. The office was located at 111 North Stanton.

In 1907, Wingo hired the firm of Trost & Trost to design a home for the family. The cost was $8000. The home was built on high ground in the desert overlooking the growing city of El Paso. The home now sits in what is considered central El Paso.

David Ellis, our fee attorney, purchased the property in the early 1990's and has owned the property ever since. It is a beautiful property. We are proud to have the Sierra Title Fee Attorney office located in this historical building!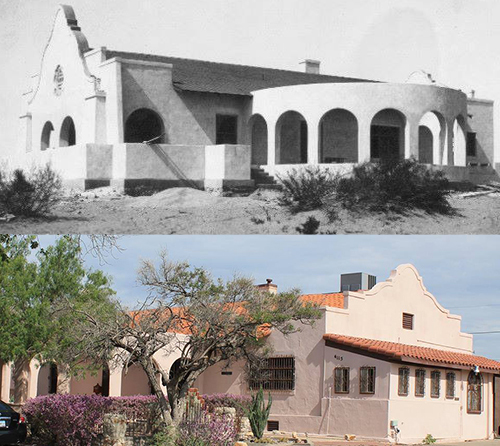 More News